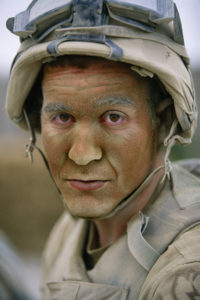 Veteran artist Neville Bridgeford has been selected by New Century Art Guild as the 2016 NCAG Veteran Artist Grant Recipient.
While serving as an infantryman in the Army's 25th Infantry Division in Afghanistan in 2004, Neville thought photography would be a good hobby to quell the boredom that often accompanies combat deployment. He bought a small digital camera at a PX while returning to his unit after leave. Not long afterwards, he fell in love with photography, and took his camera everywhere, taking pictures whenever and wherever he could.  Since his return to civilian life, Neville continues to take photos and makes art in other media, most notably acrylic painting on canvas. Giving expression to his emotions, he feels, is not only vital to having a more tranquil inner-life, but it helps in his recovery from post-traumatic stress, from which he has suffered for many years.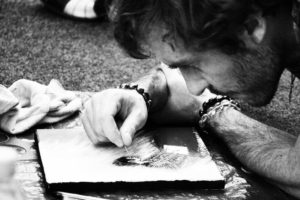 Neville was born October 27th 1983 in southern California, and was raised in the community of Santa Clarita (north of Los Angeles) home of the California Institute of the Arts and used frequently as a filming location for Hollywood films and television. In 2002, shortly after graduating high school, he entered the US Army and served as an infantryman with "A" Company 2-27th Infantry Regiment ("Wolfhounds") of the 25th Infantry Division. He was stationed in Schofield Barracks, Hawaii, and served a year (2004-2005) in eastern Afghanistan. There he began his hobby of photography. Coincidentally, a photographed portrait of Neville appeared in National Geographic, taken by the photographer Reza. Several years after getting out of the service, he began working at an art store, where he began painting at the age of 27. In February of 2016, Neville moved to Lincoln, Nebraska from southern California for a cheaper cost of living and to try living in another part of the country.  He also spends time on his other interests: playing classical piano, creative writing, reading, prayer and meditation.
Some examples of Neville's work: