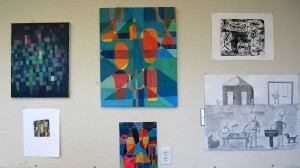 New Century Art Guild is pleased to announce our first competitive scholarship for an art student for the 2014 – 2015 school year.
The scholarship award includes:
$500 toward tuition for the next academic term to student's school of choice.
Evaluation of portfolio and academic/career direction by professional artist.
Invitation to exhibit artwork at NCAG gallery.
Evaluation Criteria:
Completed application.
Digital portfolio that includes 6-10 digital images of your best personal artwork.  Only JPEG images on a CD will be accepted –Do not send photos!
High school seniors and prospective or enrolled college students are eligible.
Letter of recommendation from an art teacher or other art professional.
Must be willing to submit a written report to NCAG showing how scholarship was used by the end of academic term.
 Click on link below for PDF of application form:
Send your enclosed application, portfolio CD and letter of recommendation by Thursday, April 24th 2014 to:
2014 Art Scholarship Contest
New Century Art Guild, Inc.
Box 64
Kimballton, IA  51543
(Please email questions to  tcrosley@metc.net)
Best of luck!!