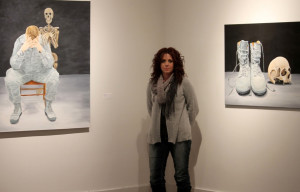 Artist Elizabeth Boutin will have her art displayed at the New Century Art Guild's Gallery in Kimballton, IA. The exhibition, "Effects of PTSD", opens May 19th with a meet the artist dinner starting at 6:00 p.m.  Among the artworks featured will be some of Boutin's oil and acrylic paintings dealing with the topic of PTSD.
Boutin married into the military, and while the couple moved abroad, she volunteered with the Red Cross. Seeing the ravages of post traumatic stress disorder firsthand fueled her creative drive to express the wounds both internal and external of those in the military through her art –and by doing so, attempt to alleviate some of their pain.
On the dinner menu: delicious smoked pork loin from Henningsen's Meats, beer, wine and other goodies!
For tickets call: Jim O'Keefe at  605-321-3841
$20.00 in advance –$25.00 at the door