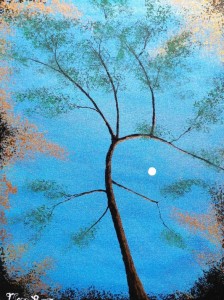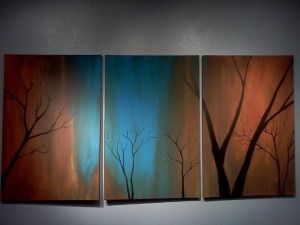 Mario Lopez, a 29 year old veteran from Bandera, Texas was the recipient of NCAG's 2014 Veteran Artist Grant. The grant included an expense paid four-day visit to the Midwest.  Troy Muller, NCAG Art Director, conducted three individualized painting workshops for Mario and curated a small exhibition of his paintings in the NCAG Gallery.
U.S. Army Sgt. Mario Lopez served in Iraq in 2006-7 and Afghanistan in 2008. In August of 2008, Mario was severely injured while on duty with a combat engineering unit in Afghanistan. As part of a routine convoy, Lopez was strapped into his MRAP Vehicle on his way to his next mission when a 300-pound roadside bomb exploded, creating a blast that sent the MRAP's door hurtling into him and pinning him inside the burning vehicle. As a result of the blast, he sustained burns on more than 50 percent of his body and he subsequently lost his right arm, right ear, right eye and most of the fingers on his left hand.
Mario said, "While recovering in 2011, I picked up a paint brush with my remaining left fingers and began to experiment! Initially, I was painting just for myself, but friends and family started to inquire about my art.  Before I knew it, I was getting attention and requests from people I had never even met!" Today, Mario and his wife, Danielle, are taking his painting career to the next level and sharing his ability and inspiration with others nationwide.