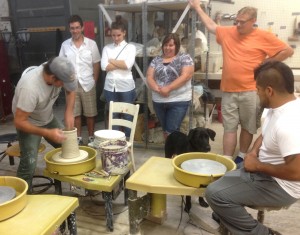 Vets-4-Vets Spring Workshops Begin in June
A series of creative workshops will be held this spring and summer at BellevueUniversity. Vets-4-Vets, a peer support group of veterans (and their loved-ones) interested in the common goal of sharing experiences, "venting" and just hangin' out will meet to create art, poetry and music. In these workshops, participants will use a different artistic media each week. All experience levels are welcome and no previous art experience is required!
Dates/times and locations of Vets-4-Vets Summer2014 workshops listed on PDF link below.
Express Yourself Through Art flyer – Part IV 07-14[1]
Please sign up in advance at the link provided below:
https://v4vworkshops.eventbrite.com
BELOW ARE EXAMPLES OF PREVIOUS VETS-4-VETS CREATIVE WORKSHOPS:
Please click on link to open PDF files:
V4V Spring 2014 Series :
Express Yourself Through Art flyer – Part III 05-14[1]
V4V Spring 2013 Series :
Express Yourself Through Art flyer (At Ease V4V LFS New Century Art Guild) 04-13_Low-res
V4V Summer 2013 Series :